Are you losing your peace of mind due to a disorganized home? 
Do you know that home management doesn't take much time if you dedicate a place for everything? Then, make it a rule for everyone to follow the habit of keeping things at their fixed spots. It will save much of your time and energy, and your home will always look tidy and organized. 
Now between your kids, hubby, and ongoing social activities, there is hardly any time and space for a better organization plan. 
Well! How about if we say that you can make your home look great effortlessly with a single product, i.e., a sideboard/buffet? With storage cum serving and display area, this furniture piece revamps your living/dining room instantly. All you need is to know how to make the best use of this storage organizer for a mess-free and beautiful interior. 
What is a Sideboard/Buffet?
The history of origination
During the 18th century, people used side tables near the dining area to serve as a display surface. Later they thought to update it with compartments, shelves, and drawers for holding all the tableware in one place. That's how sideboards evolved. 
During the 19th century, these storage cabinets became the symbol of prosperity. The households who dedicated a whole room to dining kept sideboards beside their dining tables. Their decorative designs made from mahogany, pine, walnut, and ornamented with veneers and inlays added a touch of luxurious decor to the interiors. Slowly, these became the living room cupboards to display the eye-catching art pieces. 
Definition and utility
Fast forward to today, a sideboard is a long and deep wooden cabinet with a flat top surface and very short legs or no legs at all. It comes with customized designs, shelves, drawers, etc., to house your tableware for easy entertaining. The top serves as a display area for the dishes, cocktails, beverages, etc.
A Buffet is similar to a sideboard, with the only difference that it has long legs to offer more storage in the vertical dimension. Also, it is meant to be kept in the dining room only. Sideboards, on the other hand, are versatile pieces used to showcase the decor and organize your clutter.
The ideal height of a dining room cabinet is 34 to 38 inches to offer ease of hosting and serving while being seated at the dining table.  
Now that you know the difference, let's talk about which one will work best for your home based on your usage.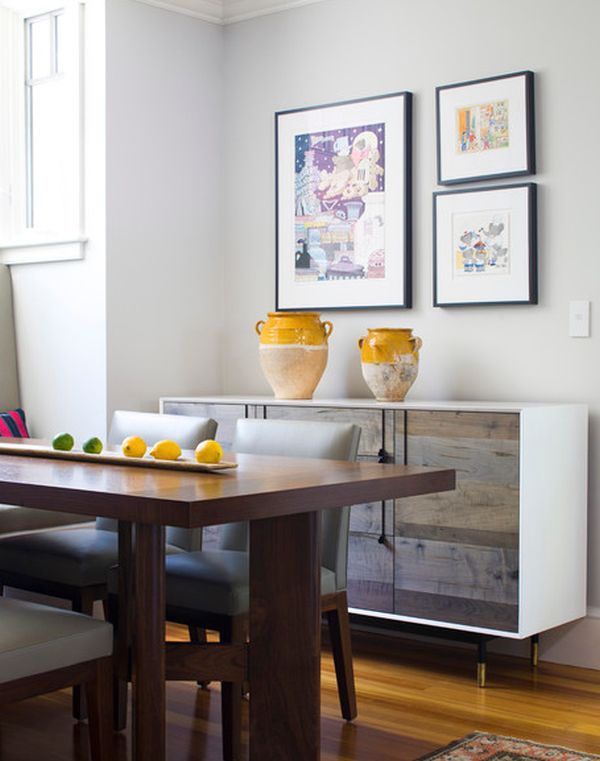 Love to entertain? You need a Buffet!
If you aspire to be the best hostess and keep your home flawlessly managed, you immediately need a dining cabinet. 
It offers the best solution to hold all your dinnerware and serving tools near your dining table. Here, the positioning of your buffet is prominent for an efficient organization. 
Ideally, your dining table must be at the center of the room, and your cupboard must be against the walls. The spacing between them should be 24 inches, closer to the table but distant for the room's furniture to look evenly arranged.
For a rectangular dining design, the cabinet shall be placed parallel to the longer side of the table. That way, you can catch hold of all the serving platters with ease and better visibility. Also, this positioning will ensure enough air circulation in your dining area without making the room look cramped.
Next, arrange your sideboard in 7 brilliant ways to keep hosting your parties tirelessly.
Subscribe to receive our newsletter and get regular updates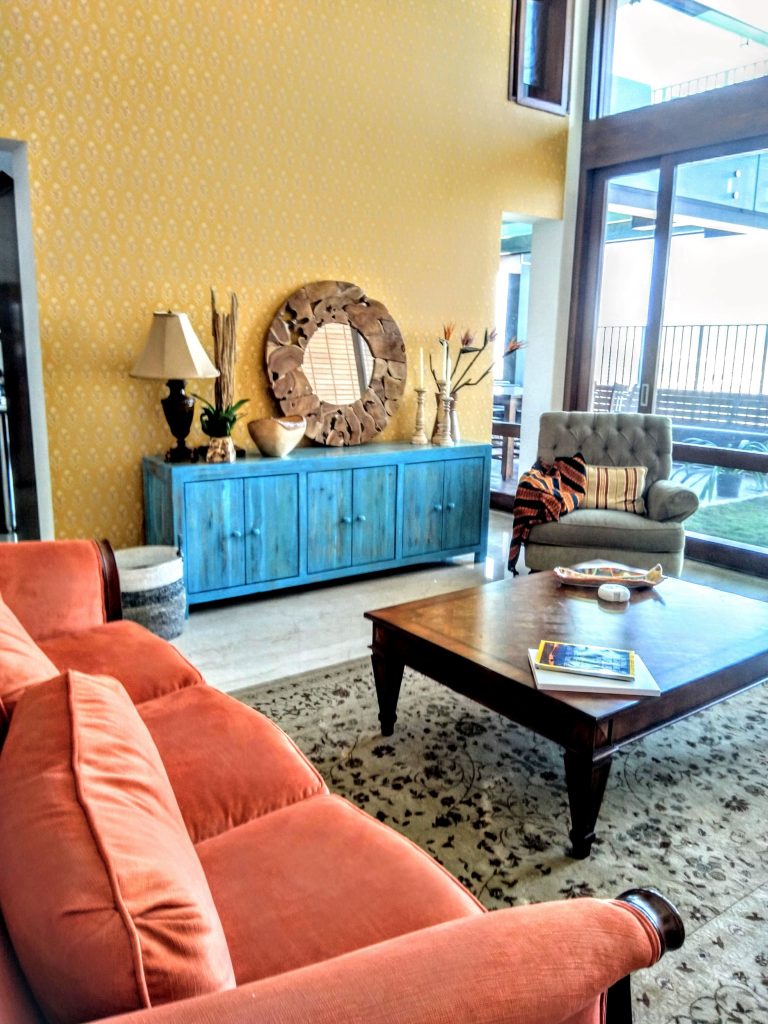 Can't tolerate a messy living room? Get a Sideboard!
The living room is the focal point of our Indian homes. When everyone is staying indoors mostly, doesn't it get cluttered too often? 
Adding a sideboard can revamp it in an orderly manner. It is a versatile piece of furniture that adds storage and works as a decorative element for your foyer/hallway. 
The stylishly alluring sideboard designs exude a tidier ambiance. They come with low legs or no legs to make sure you can store items inside without worrying about their sturdiness. The length running along the wall makes them unobtrusive and spacious. The ample display area on the top can automatically shift the attention to your decor pieces like beautiful plants, vases, family frames, etc. 
For its best utilization, position your wooden cabinet facing the couch or beside it. That way, it will be easier and compulsory for all the members to maintain the habit of keeping things back to their fixed place. 
Use it as the TV unit that also serves as the platform to keep all the keys, remote, candle holders, etc. If meaning to hide extra items lying around, choose a foyer or hallway to not overboard the living room. As per your usage, choose a custom-made sideboard that will enhance your decor in its classic and elegant designs. Go for natural tones like distressed wooden finish, turquoise blue, all white, or subtle grey. Opt for a contemporary design to match the Boho theme of your interior, or select a vintage style to stay traditional. 
What all things can you store in a sideboard or a buffet? 
For the dining room, use it only to hold the tableware. From Chinaware plates, bowls, spoons, glasses to table essentials like napkins, rings, candle holders, coasters, trivets, etc., these go inside the buffet. Leave the display area open to serve dishes with only one or two ornamental pieces to add character to the room. 
For anywhere else in the home, its utility seems endless.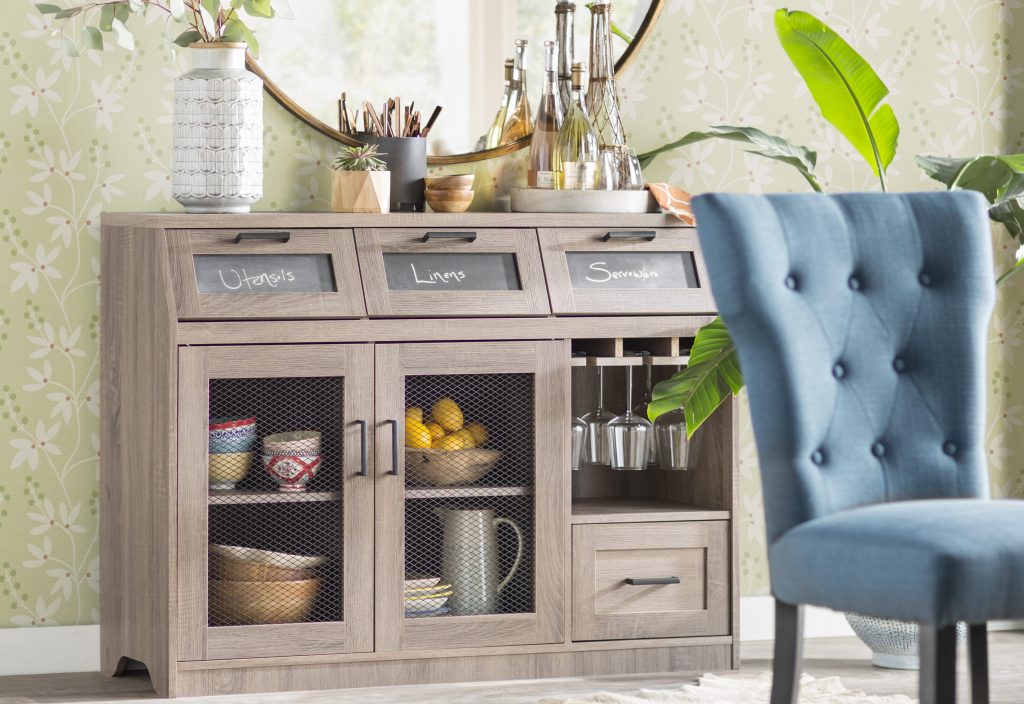 You can store office essentials with a sideboard by the side of your workstation. In your bedroom, it can be your bedside table with a drawer or two for your everyday items, plus fresh flowers on its top. Kids can use it to store their books, board games, stationery, or even turn it into a beautiful children's library. 
One main interior design trick is to use a buffet or even a sideboard as a room divider to partition various areas. Depending on the size and your room's space, they help create separations without making the room less spacious or blocking the light.
You can get tailor-made hutches to sit on top of your dining cabinet or sideboards as your partition walls with mirror shelves. It's the smartest way to add tons of storage in the vertical dimension leaving the carpet area free and spacious. 
Which sideboard will work best for your home? 
The modern storage organizers are absolute charmers. Bring home a cottage-style sideboard or a treasure trunk to fall in love with a clutter-free home again and again. 
If your rooms are comparatively smaller, then this single piece of furniture has the potential to max out on storage and the decor charm.
Takeaway 
The thumb rule to make your home look impeccable and fresh is to place sideboards wherever you need maximum organization. 
For your space's utility, select wooden cabinets online from Miradorlife.com. Tell us about your routine workstyle, and our skilled artisans can handcraft a piece tailor-made for you. We believe in creating sustainable products from organic/reclaimed wood. With eco-friendly products and unique designs, we are here to help you make your home look beautiful. 
For that, a well-crafted piece is always better than the factory-mold designs as it lays focus on attention to detailing and your safety.