It has been a long time since you'd have hosted an in-house lunch and enjoyed building the gossip castles!
And who knows how all the tableware is holding up inside the sideboard near the dining room?
Soon, you'd get a chance to invite all your friends to catch up on the lockdown diaries. Have you thought about the clutter that lay behind the doors? Won't it be easy to sort it out in the meantime and make a way to remodel your social life? 
We thought so! 
Your kids will also be back to their online school within a week, and then you'd find sufficient time to organize your Sideboard. 
A sideboard is a storage cabinet with many shelves and drawers to keep all your tableware organized neatly. If you don't have one, you can get stunning pieces tailor-made to add tons of storage to your room from Miradorlife.com
Let's start organizing your wooden cabinet with meticulous planning for your upcoming gatherings.
Don't worry! Our interior designers have already laid out the plan. You can win the best hostess award in your women group effortlessly by using a few versatile accessories along with a few expert design tips.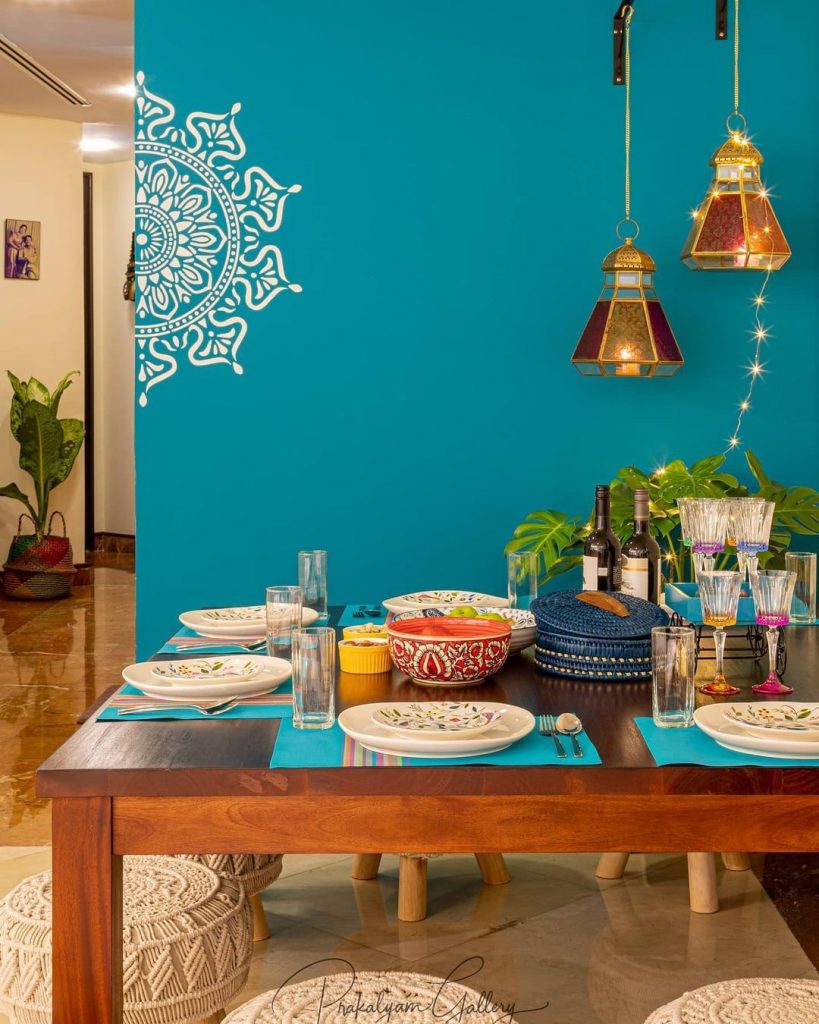 Set your dining ware free from the lockdown
If you're starting with a new sideboard or overhauling the existing one, the first step is to empty its shelves and drawers. 
Lay all your crockery, plates, table linens, candle holders, trays, etc., on your dining table. In short, let them come out of your sideboard by emptying it completely. 
Once in a while, it's good to take them out to get rid of any odor or dirt and dust. When you've all your stuff in front of you, the chances are that some of them might be outdated and no longer required, while a few of them will solve the missing items' conundrum. 
Have a rain check on what all things you need and discard or donate the ones you won't need anymore. Don't forget to vacuum and clean the sideboard as well.
Segregate, categorize and conquer
As it's time for a fresh start, you need to say goodbye to the old-school style of making a pile of plates, bowls, etc.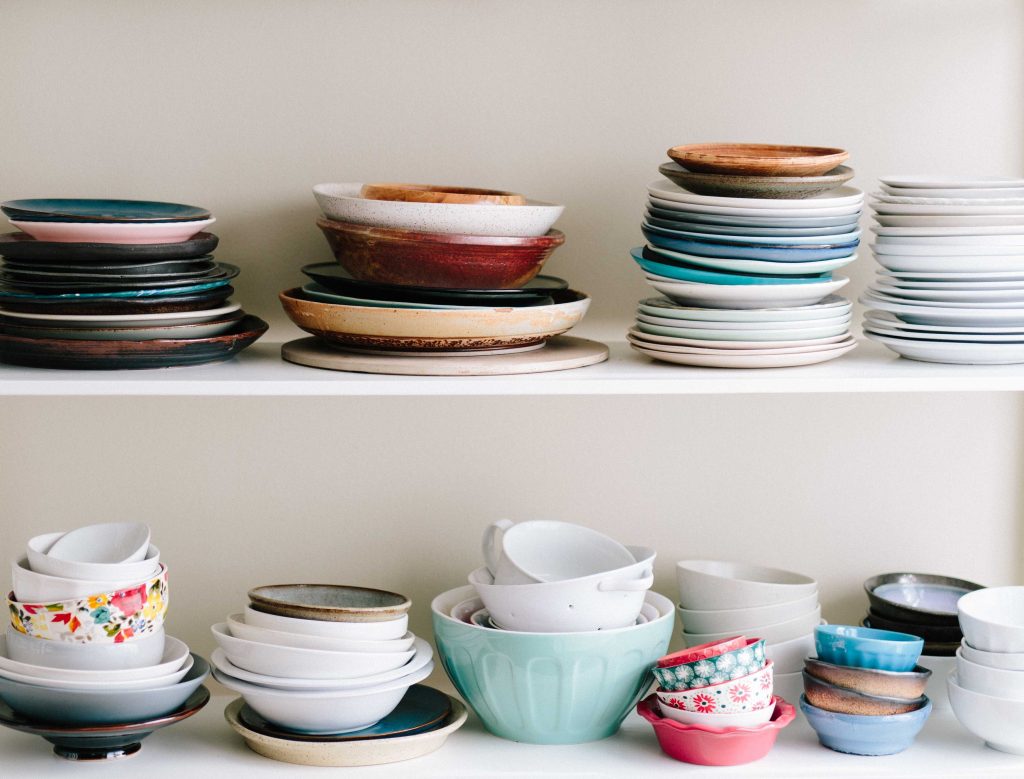 Instead, segregate them categorically. Make a set by keeping aside all the plates together, then the bowls, crockery, glassware, spoons, spatula, linens, accessories, etc.
The second segregation can be done inside each category based on material. E.g., keep all the Chinaware plates on one side, then separate the glass plates from them. Follow the same categorization strategy for all other items. Like make a bunch of wooden spoons and separate them from the steel or Chinaware set.  
Proceed to make a third category essentially of plates and bowls to sort them sizewise. 
Also, keep aside all the utility items such as napkins, rings, sniffers, candle holders, tissue boxes, etc. 
Take a break as most of the work is done now.
Pick up helper shelves, liners, and accessories
Don't worry! It won't burn a hole in your pocket, but these basic things will arrange your sideboard once and for all. Pick them online. 
You'll need an upright metal carrier to create partitions and ease of accessibility between different sets of dinnerware. You could also get H-shelves inside your storage organizer. We swear they will make life much easier by breaking down the different sets of dishes. So that when you have to take out a single set, you don't have to juggle and shuffle the rest of them. 
Add to your cart the cushioned non-skid liners to protect your silverware from getting chipped or cracked. Select felt dividers to add an extra layer of protection between the dishes, silver cloth to line the drawers, and quilted cases to protect the expensive Chinaware. For the wooden items, use zip-up accessories to place them separately to lock out moisture and dust. And then we have the overhead stemware racks to hang the cocktail party essentials. Add them to your shopping basket as well. 
Don't forget to order wooden trays and some cute Water Hyacinth basket trays for flawless organization.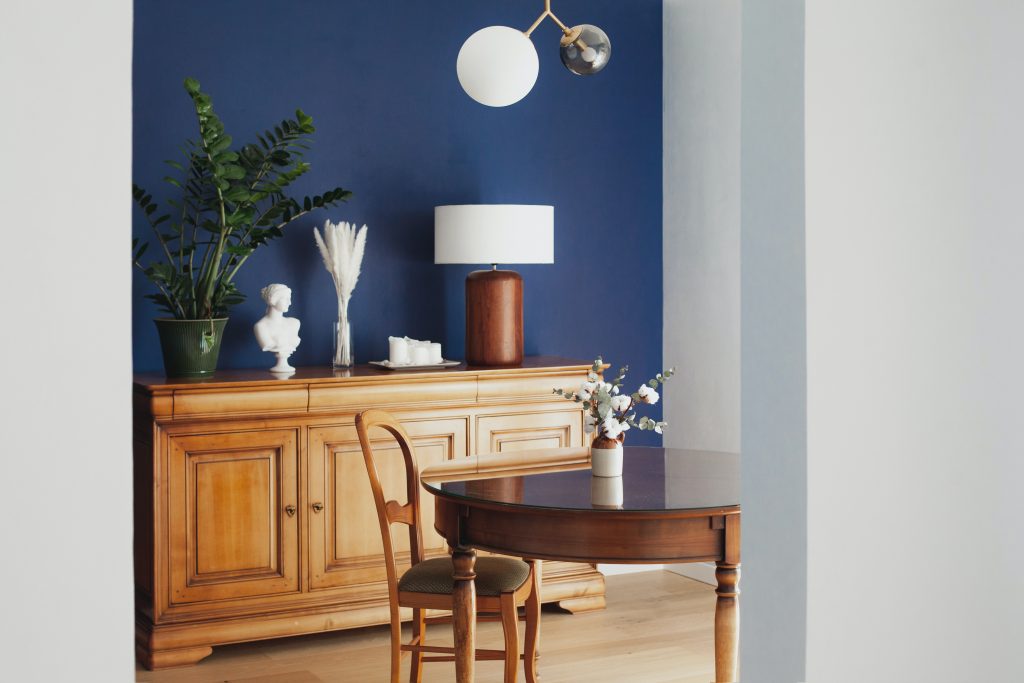 Organize your sideboard down to a T
Line the shelves and drawers with the silver cloth, arrange the cushion liners and place the metal carriers inside the cabinet's shelves.
As per the categories we made earlier, arrange the plates on the top and bottom of the rack. If using the H shelves, use different slots to arrange the segregated sets. Remember not to mix the items again, as the classified organization will make things easily accessible.  
For the plates and bowls, use the bottom shelf, as they will remain safe there without getting tripped. Place the felt dividers in between the plates before keeping them inside. Lock the Chinaware inside the quilted storage and then arrange them on the bottom shelf.
The bowls can go up above the plates, single file and facing up. The top cabinets can accommodate the serving spoons, forks, spatula, and small spoons; tucked inside the flat wooden trays.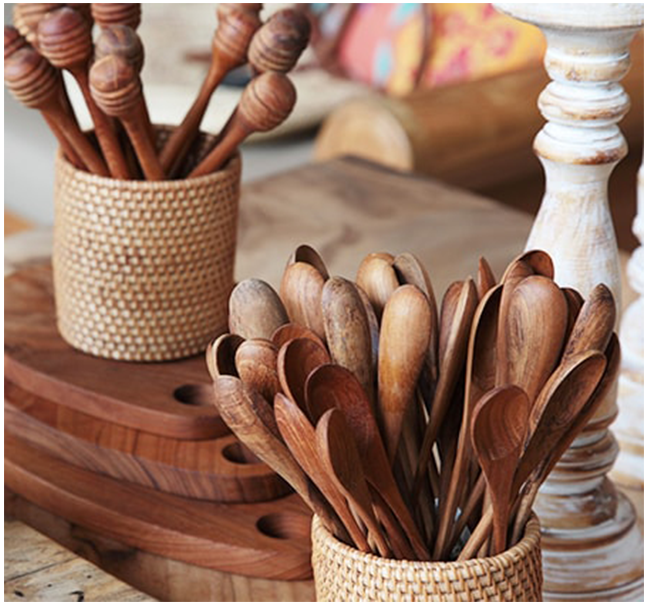 Use the rectangular basket tray to line up the tablecloths and napkins. Use cardboard tubing to roll them around and then place them in the tray. It will prevent them from getting wrinkled. In the same way, use small tissue rolls to fold the table runners before placing them in the tray. If possible, cover the basket trays with protective acid-free paper. 
For the napkins, let the smaller basket trays spruce up your sideboard in the same manner as we did for the tablecloth. Just one more tip, don't forget to use different trays to pile up dinner napkins and the cocktail napkins separately. 
Subscribe to receive our newsletter and get regular updates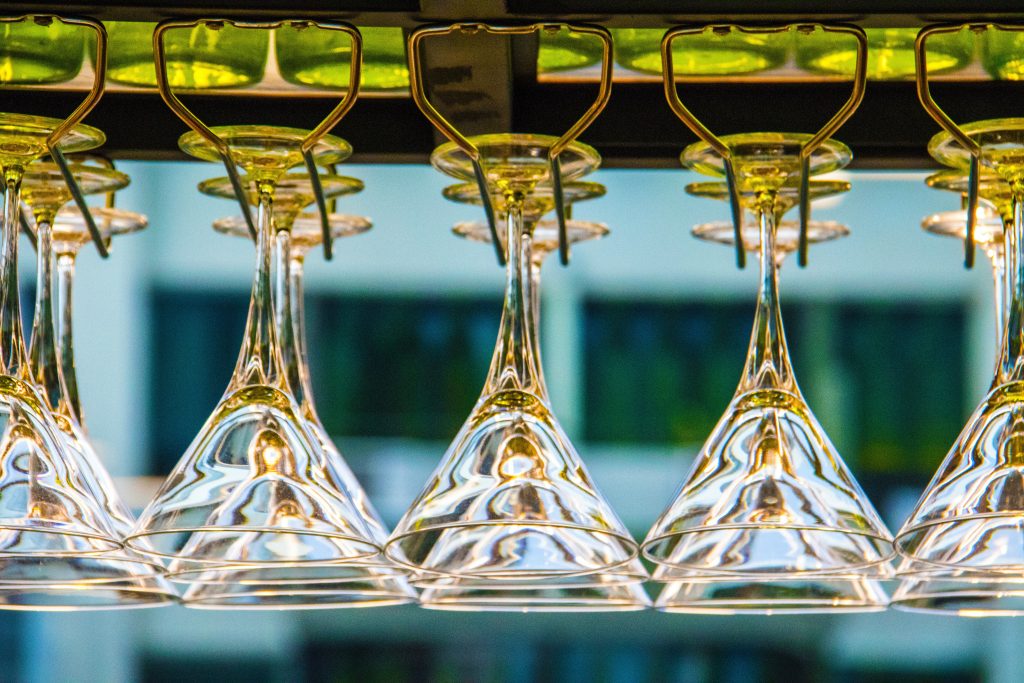 Make room for cocktails with suspended storage
It's now time to arrange your minibar. Bring all those glasses that we've categorized earlier. 
Hook the stemware rack onto a shelf that may be a little distant from the Chinaware. It's a smart way to store wine glasses leaving more space for trays, platters, and other items.
Add a wine rack on the top shelf or the display area of the sideboard and you're all set to be the best socialite ever. 
For the mixers, shakers, trays, ice buckets, etc., you can use a low cabinet inside the sideboard. Or else, arrange them in a wooden tray on the serving area if you're running out of space. 
Use drawers for smaller items and accessories
How many more items are you left with now?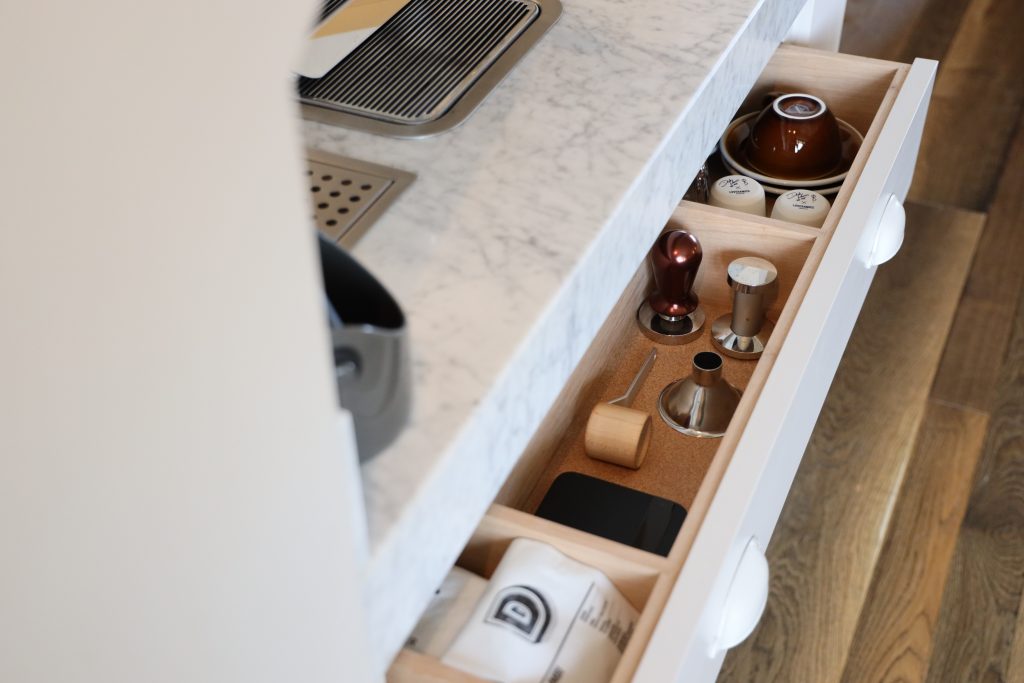 We know that between your kids, your husband, and your passion to become a great socialite, you seldom get time for home management. It's difficult for you to carry on a cleaning and organizing drive now and then. Form a systematic array of the hodgepodge of items now itself. 
Let the wooden coasters, napkin rings, candle holders, sniffers, trivets, etc., be on the top drawers. A smart way is to use zip-lock bags for each category of items and then tuck them in the cabinet's drawers. That way, you won't have to keep scrambling items you need. 
Remember 'a place for everything and everything in its place' is the tried and tested formula of keeping your home tidy and clean. 
Get a free design and decor consultation from Miradorlife
We want your home to be the best in terms of decor that reflects your persona. 
Don't worry if you're still confused or if your sideboard is not having enough space to accommodate all tableware at once. 
We are happy to help you understand how to make use of your furniture and decor in a way to maximize your room's potential. 
For small spaces, we have beautiful and sleek sideboards. From the gorgeous French style to contemporary custom storage organizers and the crockery cabinets, you can choose from a wide range. Rest assured our products are sustainable and well-crafted to ensure design perfection and your safety. 
Our furniture and decor pieces are handcrafted by local artisans. Every time you buy a product with us, you are contributing towards the pledge of supporting the Indian craftsmen and their art forms.
Check out our products at Miradorlife.com
Book a no-obligation and absolutely FREE 30-Minute Design Consultation with our design experts. 
Get your free design consultation today!
Subscribe to our newsletter ELEVATE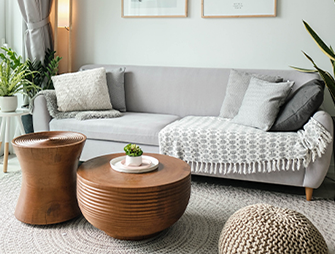 Hope you've enjoyed reading our blog!
Subscribe to receive our newsletter and get regular updates