Article by Preeta Dutta. Founder & CEO, MiradorLife
As I get older, I've noticed that most of urban India seems to be living in a hurry. We are in so much of a rush to reach the finish line, that many of us forget that it's the process and the time spent in doing something that is important and life changing. Reaching your life's goal may not be as attractive if along the way you have missed out on living life completely in its moment.
Today I introduce you to "Hygge". Pronounced as "Hooga", this concept comes from Denmark and can be roughly translated as 'coziness' or the art of creating "intimacy'. In reality it is a simple and beautiful concept, which actually relates to an individual's mental state rather than a purely physical one.
For some reason the Danes are considered to be one of the happiest people in the world. Yes it helps that Scandinavians have a very high standard of living and do not need to deal with our stress of traffic jams, poor infrastructure etc. Yet the Danes deal with some of the harshest and coldest weather with six months of darkness by simply embracing the Hygge lifestyle or by appreciating the small joys in life.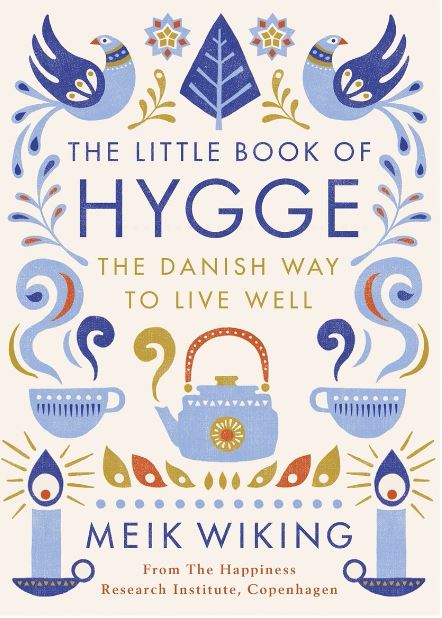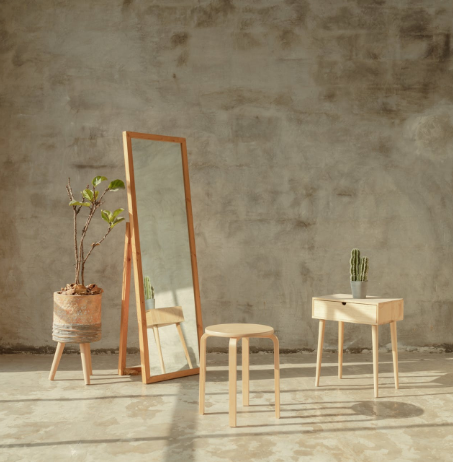 You may ask how does this concept actually help in interiors? Does my pace of life affect or change my interiors and home? Without a doubt it does. I keep saying that home is personal and the more you enjoy the simple joys in your house, the more it will reflect in your mental well being, personality and definitely in the resulting space created.
The design concept of Hygge is the magic ingredient in converting your houses into homes and I would say is the key to Scandinavian design style. It is that element which helps us slow down, enjoy moments with our friends and family and basically learn to enjoy and respect your personal space. Your house becomes not only a showcase for neighbors to envy, but a space which YOU enjoy while embracing life to its fullest.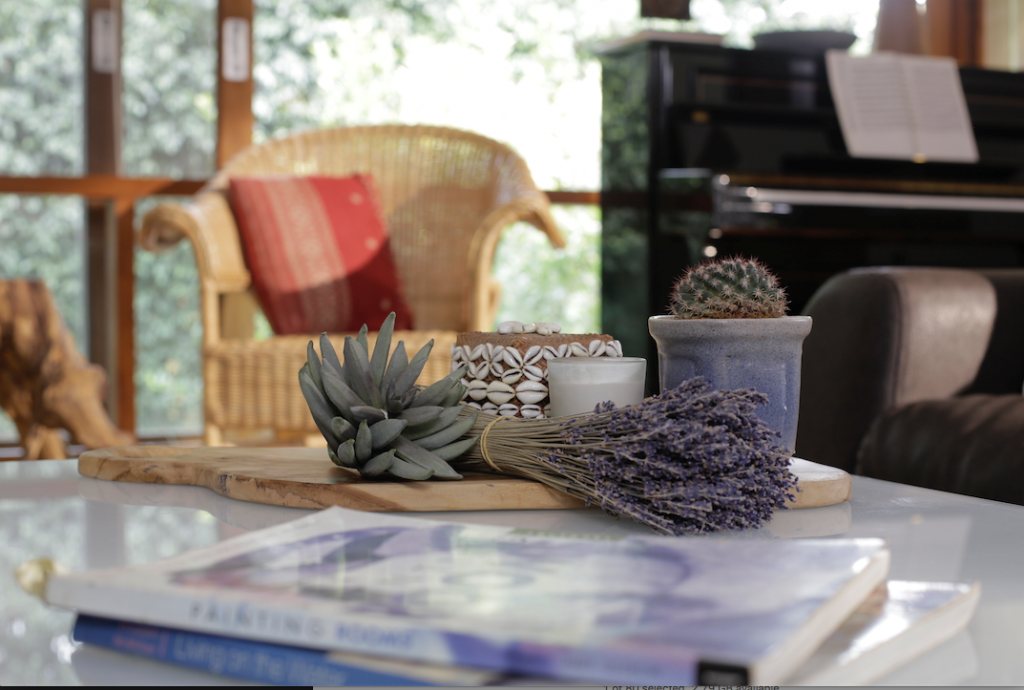 How to create to hygge concept in your house easily.
1. Texture
Texture has been my personal mantra for every home. Cushions, Throws, rugs and textiles in any form add depth coziness and can immediately lift a drab boring sofa to a very stylish one. The cushions can keep changing every season or occasion without you having to go through the cost of buying or re-furbishing an old sofa.
2. Introduce natural wood
Natural woods are symbolic to being close to nature as possible and create warmth completely missing in MDF furniture. Mixing different wood pieces in furniture and décor not only brings the outdoors in, but you never have to worry about finding the right polish or matching your furniture. Nature does not match; there is no need to match your home.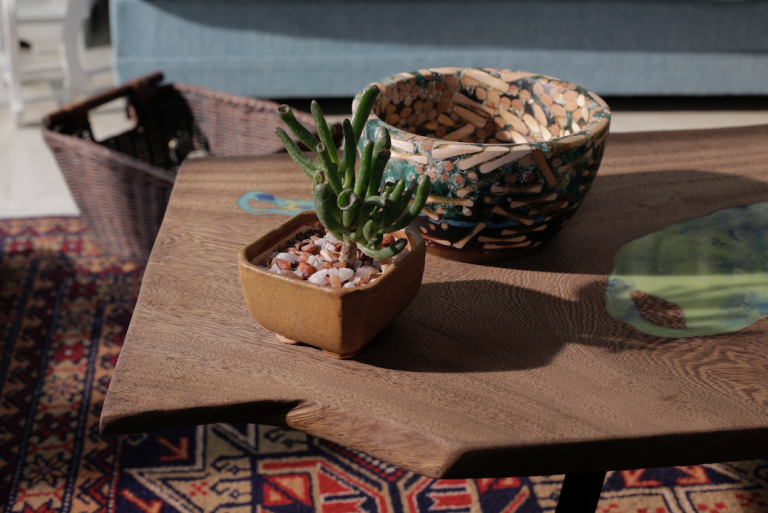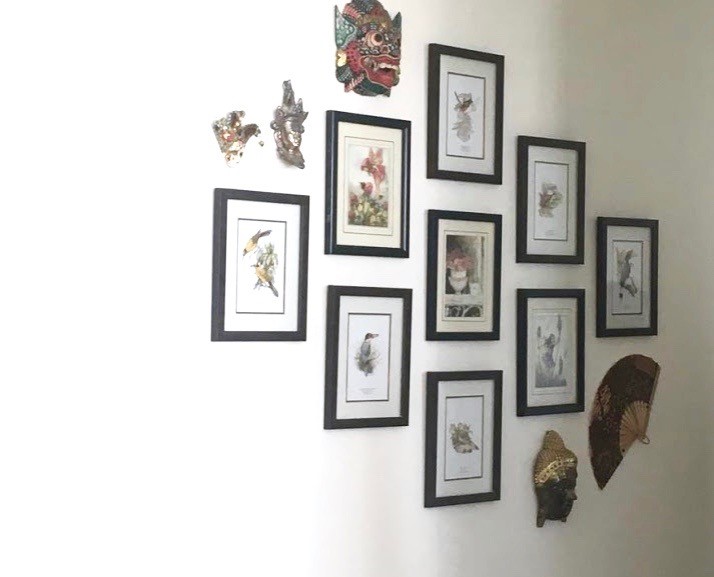 3. Display what makes you happy
People often come into our studio (MiradorLife) and love the pieces but think it wont fit into their house style or décor. I say if you love it buy it, it will fit your space much more than some pintrest ideas, which have been handed down by decorators like me 
4. Mood Lighting
Lighting is crucial in creating a hygge home. Harsh white lights actually affect our stress levels a lot more than anything else. Studies have shown that the harsh white light, which emits blue light in the spectrum, suppresses the production of melatonin, which is responsible for health problems such as sleep disorders Invest in lamps, candles; even fairy lights can make your place seem magical, romantic and warmer. For centuries people have believed a candlelight dinner is the epitome of a romantic evening. Why?…because it creates an intimacy in your surrounding and helps your body and mind relax.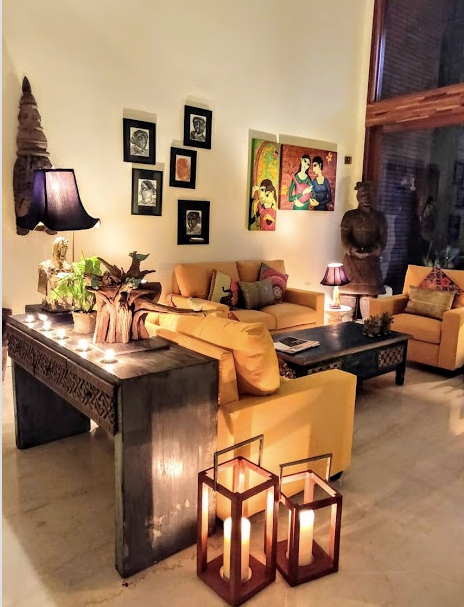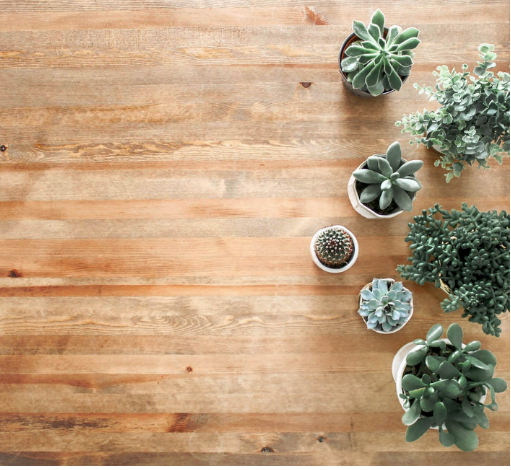 5. Go Green with Plants
Keeping plants indoors helps breaking your space and creating an illusion of height, warmth and texture without too much effort. Can't manage to look after plants? add stones, pebbles, driftwood and shells.…Hygge in style and see how happy it makes you. Even framing botanicals and outdoor prints and pictures add a natural flow into your room bringing in positive energy without you realizing.
6. Bring in the vintage touches
Nothing is more personal than the items you have collected or inherited. Household items should be more than just 'things', each one should tell a story of either on how it was made or how it was collected.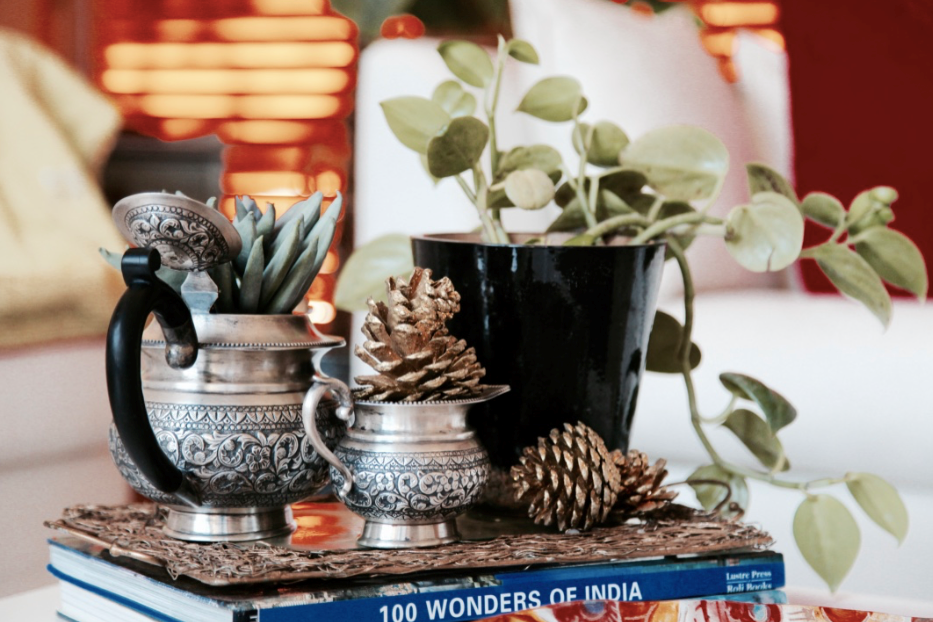 My vintage silver tea set used in a coffee table set up instead of being stacked away  This year while designing for a wonderful husband and wife couple who were moving into their new home. I tried to incorporate elements of their heritage and travel into their house. Instead of spending money on expensive art we framed their mothers old heritage kanjeevaram sarees in the foyer. Not only does it look like a stunning wall art it constantly reminds them of their parents. Both the mother and the in-laws who came in for the Griha Pravesh were delighted!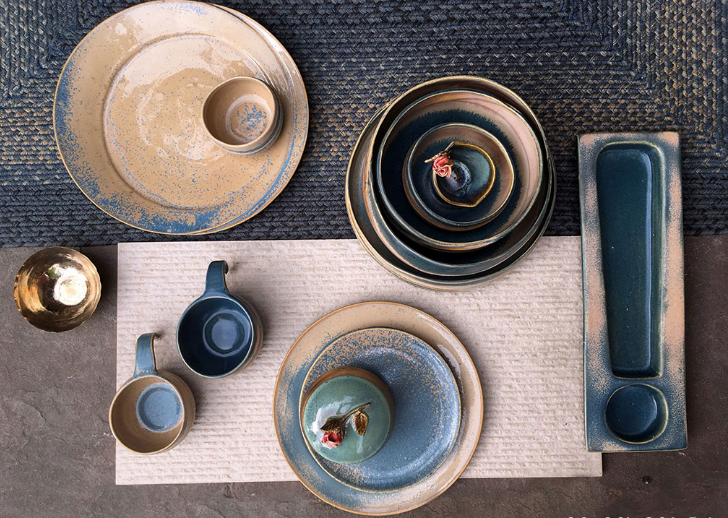 7. Spend time with your family
For me mealtimes, especially dinners are a crucial part of the day when the family meets to spend quality time with each other and to relax. Make this meal enjoyable by serving in style and making even the simple dal chawal meal more memorable. Use your grandmother's pital or kansa, put a small flower arrangement, lay out the dinner table. Shoveling food into your mouth sitting in front of the TV is not only unhealthy but more importantly does not create any memories.
Lastly savour every moment, step back into your space, however small or big and enjoy it. Whether it is having a nook to sip your morning cup of chai and relax before starting the day, or sitting on a favorite chair cozying up with a mystery novel or just spending time with your family and close friends.

Life is good and there's goodness all around, one just needs to pause to find it. No rush, 'Hygge' create intimacy with what's around you.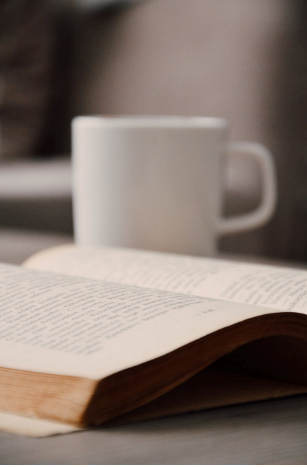 Share your thoughts by writing in below.
STAY SAFE & STAY LOVED.