Furniture. Starting from a simple chair to elegant sofas or lounge systems, houses often seem to lose half their charm without suitable furniture filling in pivotal design spaces. Good furniture is characterized not only by its looks, but also by its usability, sustainability and eco-friendliness. With things taking a dire turn for the worse due to deforestation and severe climatic changes, it's even more important to focus on every aspect of our lifestyle to be as eco -friendly as possible. Eco-friendly furniture is a small bit towards this goal albeit a pivotal one.
Furniture can be chosen on basis of needs or wants. Irrespective of the choice that is made, people mostly pick furniture that can easily fit into their living spaces and complement the indoor ambience. Now, having furniture that is built to last is much better than cheaper built ones. Furniture that can become part of landfill is not sustainable and should be avoided.
With architecture becoming more and more industrial and minimalistic in design, it is important to understand that furniture should be chosen accordingly to fit into the atmosphere seamlessly. Be it an eco-friendly sofa or a sustainable dining table, it is not necessary that you must splurge in order to achieve a balance in your personal space or workspace. Modern furniture comes with a host of design functionality that can allow multiple functions from a single element. Like for example, in smaller spaces, a bed can be transformed into a sofa, or a sofa can be extended to a lounge mattress.
Sustainable wood furniture can be more cost effective in the long run than furniture made of metal or plastic. Apart from being bio-degradable when its lifespan is over, wood itself ages gracefully when treated and maintained well, imparting a beauty to the entire décor of a space. Pair that up with some sustainable cane furniture and you can easily get a retro look in a any living or working space. It not just enhances the ambience of the place but is also rather easy to maintain and shift whenever needed.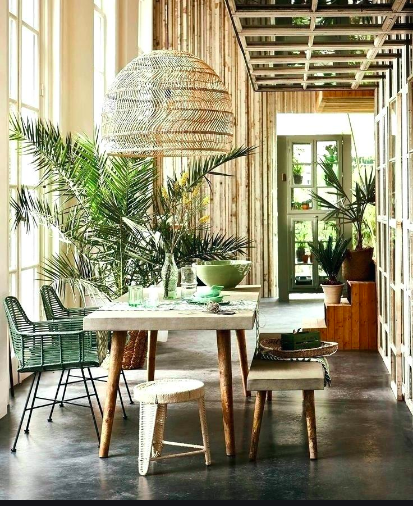 For fulfilling an immediate need of furniture, you might be tempted to choose something economical and disposable, but that need not be the case. Even for single people who live alone, minimalistic furniture made of reclaimed wood, metal and plastic is rather affordable and sustainable. If planning for a resale, these pieces of furniture are often good for their money. Cheaper, non-environment friendly furniture can be lighter on the wallet at the first instance but in most cases, they either fail to last as long or face functional problems that leads to discarding them. Due to the nature of the materials being used in such furniture, disposing them off is a rather painstaking task as well.
Bamboo, jute, teak and stone are super sustainable materials that have found their way into many modern furniture concepts and design.
A great and amazing resource for people looking to purchase designer and sustainable furniture is MiradorLife. Apart from themed collections that you can explore on http://15.207.253.145, you can even book a consultation with us to help you select the best suitable furniture that reflects your personality.
Before you decide to throw all care to the wind and choose furniture made of MDF or particle board, it is a good idea to explore more sustainable options in and around your vicinity.