Be it a home or any kind of paid lodging, furniture plays a very important role in adding value to the décor and coziness of the rooms in the place. There will be people who want minimalism in their approach or those who want a grandiose setup in their furniture setup. Irrespective of that, choosing eco-friendly furniture goes a long way in adding value to your furnishing choices. Apart from being sustainable and long-lasting, environment-friendly furniture puts a lot less impact on nature. Since the materials used in making this kind of furniture is mostly reclaimed from other sources, renewed and used again, materials don't contribute to landfill and unnecessary wastage.
There are many sources of reliable and sustainable furniture. Depending on the look and the décor you want, you might want to consider elements that complement each other. Handmade cane furniture is a great resource to be used in livening up a living room. Apart from being really strong and durable, they impart an exotic and quaint look to the setting. Be it a table, a set of chairs, a leisurely swing or a sofa, using handmade cane furniture is a good idea. But if you are thinking of cane furniture, the rest of the room should also be complementary to the color and tone of the furnishings.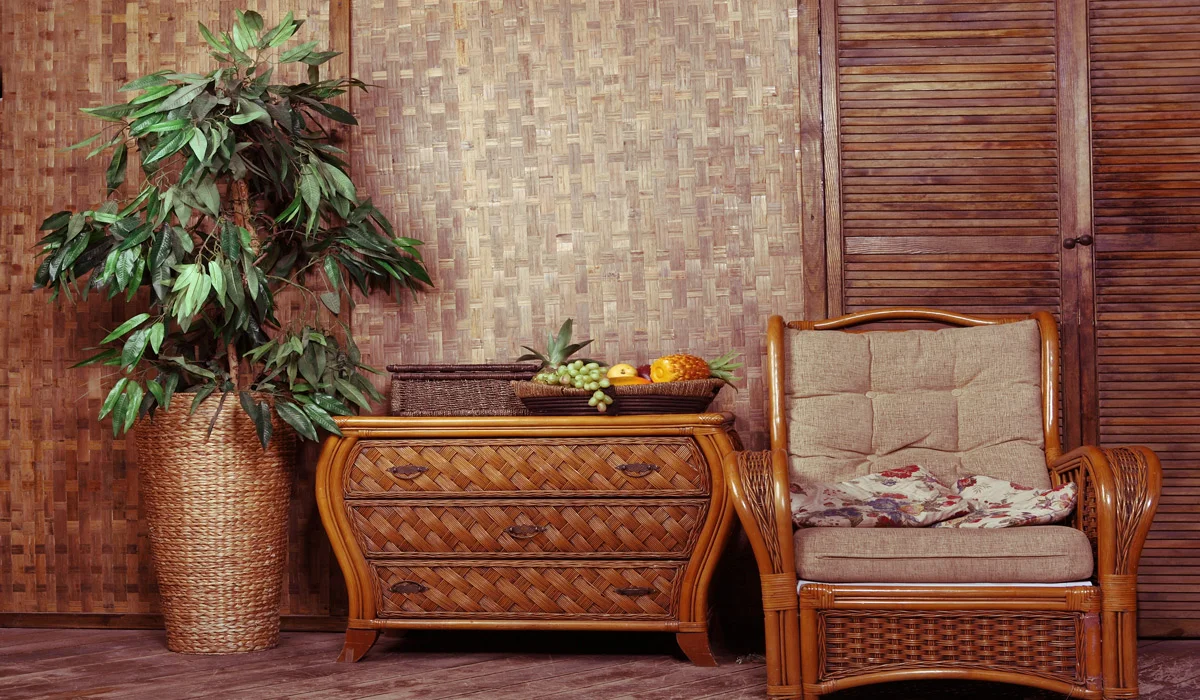 A living room can have quite a few pieces of furniture if it is considerably large, however if you are low on space, a small tea table and a couple of chairs will work fine as well. No matter how many or how less the pieces of furniture used, always bear in mind that a subtle and somber color theme will work best with handmade cane furniture. Natural colors for the walls, like taupe, tan, beige or ecru will contribute to a fantastic background while not being too imposing. Likewise, flooring could be made of a darker shade of the color used for the walls. Upholstery and covers can be kept in shades of green or cream, depending on the statement that you want delivered. Green will bring in vibrance and will be the better choice if you use the living room primarily during the daytime. With mellow lighting and if evenings are the time when the living room is frequented, the atmosphere becomes quite relaxing.
Obviously, you can have many more elements to add to the décor even if you are low on space. A tall and thin bookshelf in a corner will be a great addition to impart some character to the room. Lamp shades and stands at the corners will also be great additions to the ambience. Some strategically placed shelves near or around the place you keep your media center will bring in focus to the centerpiece and can serve to detract attention from the rest of the place if the space is less and the furniture is sparse.

You can even combine cane with bamboo, jute, teak, and stone to bring an overall natural look to your living room space. For more ideas on how to combine cane furniture into your lifestyle, get in touch with MiradorLife. Most collections available on miradorlife.com feature sustainable and eco-friendly furniture. Almost anyone can find a themed collection matching their tastes on the website.