You might have been reading about furniture, house décor, tableware and design on our blog if you've been following us. It might be a bit strange to see such a post on the coronavirus here. But considering that researchers around the world are saying a viable vaccine could take up to 18 months to be available, the only ace up your sleeve is taking precautions. A study claims that the novel coronavirus can survive for up to 72 hours on surfaces like plastic and steel, and up to 24 hours on cardboard, wood and other organically derived building materials. So, your best option is maintaining cleanliness.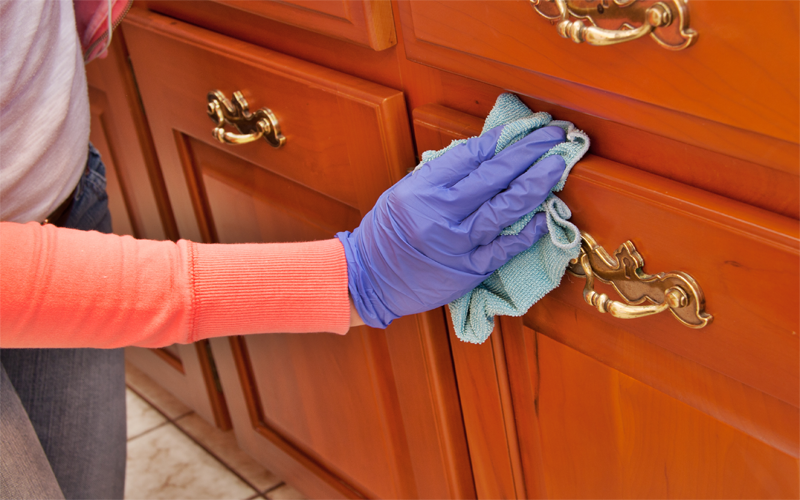 We are sure you have at least started following the habit of washing your hands. After having food, handling materials, cleaning the house or other things, you should definitely wash your hands. Just using soap and water will do the trick for your hands. While at it, doing a face wash can also help. But what about the furniture in your home? What about desks, chairs and sofas at the workplace? What about your laptop and phone?
Thankfully, you don't have to fret when it comes to cleaning surfaces efficiently. For materials like plastic, metal, glass and non-biodegradable surfaces, using alcohol wipes are a great way to ensure good cleanliness. If you are currently working from home, and don't have guests frequenting your place now, wiping handles, tumblers and other containers which are being used regularly once a day will suffice. If you're into healthcare and wellness, you might have more people coming into your workplace. Alcohol wiping twice a day can ensure good cleanliness is maintained. Till the rising tide of COVID-19 ebbs over, you can cover up sofas and other fabric lined furniture with plastic sheets, so cleaning becomes easier.
Now, when it comes to wooden, cane, bamboo and jute furniture, a slightly damp cloth soaked in mild liquid detergent, can be used to clean them. With polished furniture, after cleaning, you can optionally brush the furniture with a thin layer of clear varnish or lacquer, depending on what the original polish is. These methods can help ensure that even if you are isolating yourself from social contact during COVID-19, you can still stay relatively safe and protected against the virus.
It's important to understand that the novel coronavirus is an RNA virus. Remdesivir, that is being tested against the pathogen causing COVID-19, still has to provide promising results. Till vaccines are available, considering the exponential rate at which the outbreak is progressing, you need to stay extra safe through precaution and practice good hygiene. Organically sourced furniture has a higher chance of resisting virus survivability. If you want to know more about organic, eco-friendly and repurposed furniture, please visit us at miradorlife.com or feel free to call us on 080-40909757 and our team will be happy to help you.
Meanwhile, please adhere to all the safety precautions and stay safe. We wish you a safe and healthy week.