Out-of-the-blue! 
It came into our lives & turned our personal & professional lives upside down. When businesses started plummeting due to lockdowns & safe distancing in the physical world; the digital world took precedence. 
Before the Corona era, companies were rigid in embracing the hybrid-working model. 
Now with changing mindsets, working remotely has become the backbone of the global working class. And this flexibility is becoming permanent as the contingency against any roadblocks to success & growth. 
It's high time to set up a convenient workstation to beat the tireless working hours comfortably. The foremost tool in creating a siloed workspace is a smart work desk. When you have to spend a big chunk of your day on your office table, you can't go ahead in selecting one blindly.  
Here're some experiential factors that'll assist you in choosing the appropriate work desks for you.
Outline your requirements
Choosing a desk for a workspace at home needs extra attention on planning your requisites thoughtfully. Leverage office desks that are handcrafted with attention to detail from every aspect of your professional need.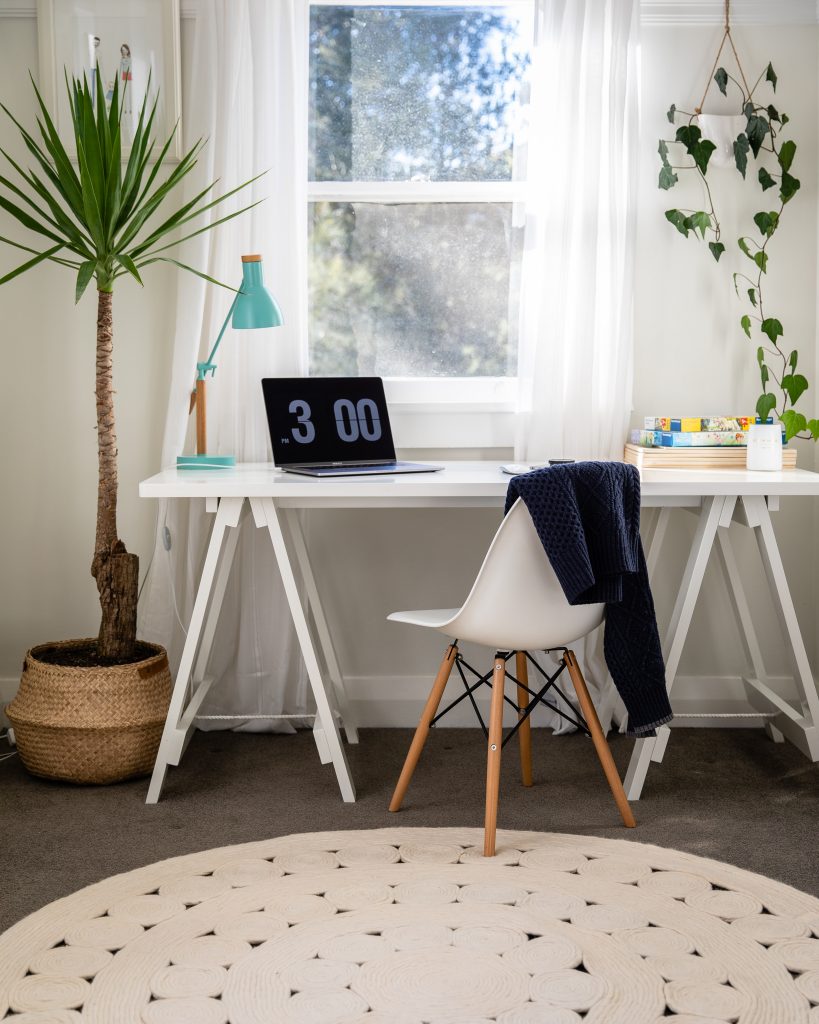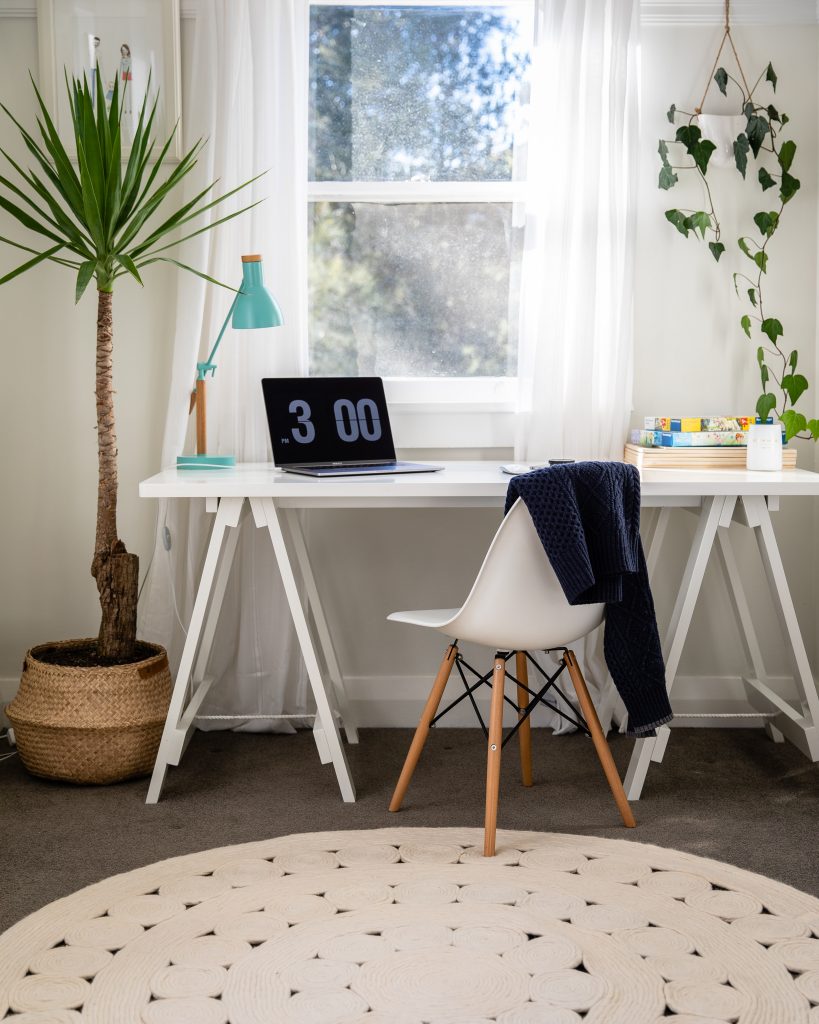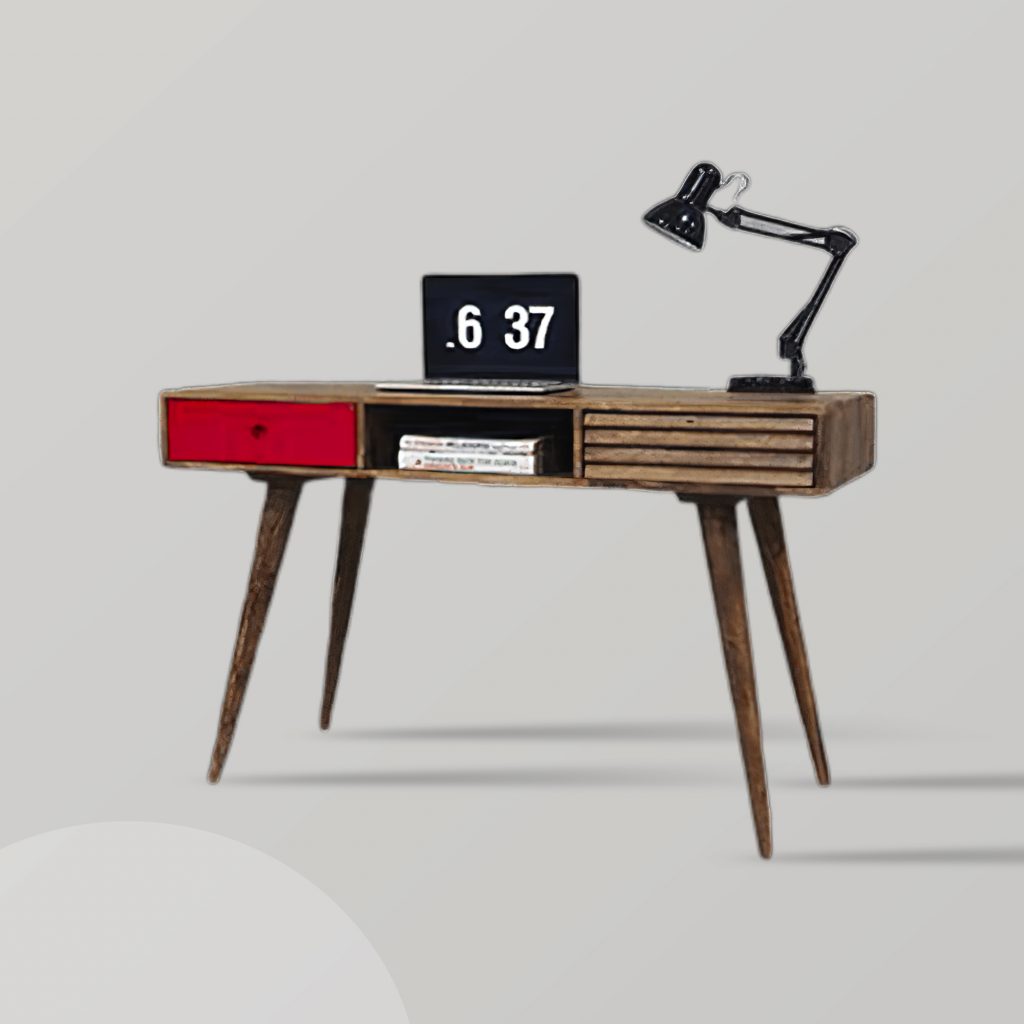 Do you want a dedicated desk for your office?
Like Sheldon's spot, if you want to reserve a space permanently for your workstation, ultra-slim & lengthened desks fit the bill. You can get them customized as per your wall length & width. That way, your room will look spacious & you'll have a secluded corner transformed into your workspace cabin for all your confidential virtual meetings.
For the classic home office vibes, old-school desks are making a comeback. The mid-century wooden desks with storage compartments will add the right shades of professionalism to your workstation. A table lamp & an alarm clock beside your laptop, along with a "Do not disturb" sign, balances the perfect match of home & businesslike decor' elegantly.
Does your desk have to be flexible enough to shift roles?
For the creative minds who like to shift workspaces from bedroom to balcony, space-saving desks seem the obvious choice. 
A fine blend of sustainability & compact designs, these desks are easy to carry anywhere & elevates any space beautifully. Choose between Crisscross legs, bright colors, airy & lightweight desks to match pace with agility of shifting roles effortlessly.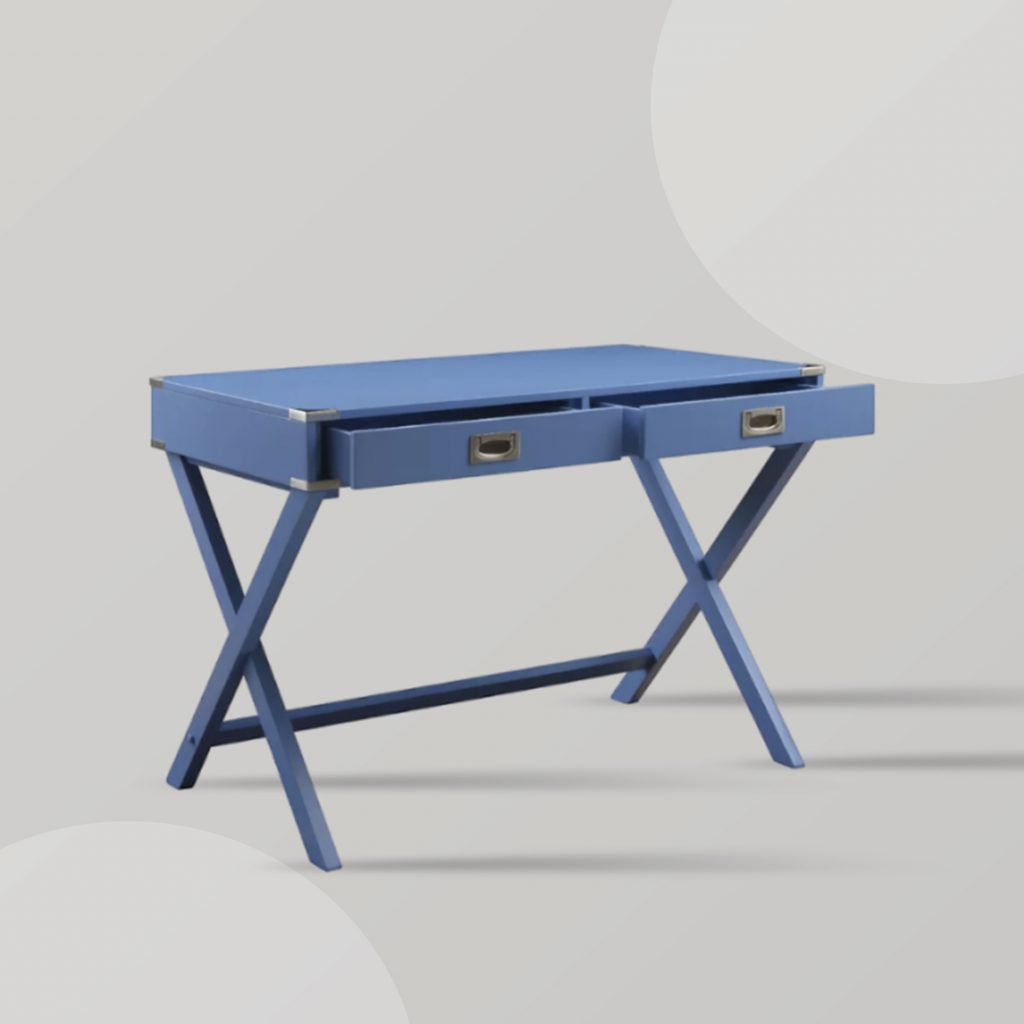 Delegate your tasks to different desks
For computer work mostly – Choose a desk with built-in holes to organize your electrical connections methodically.
For office desks that involve paperwork too! – An L-shaped desk offers the right blend of segregating your digital & paperwork spaces smartly.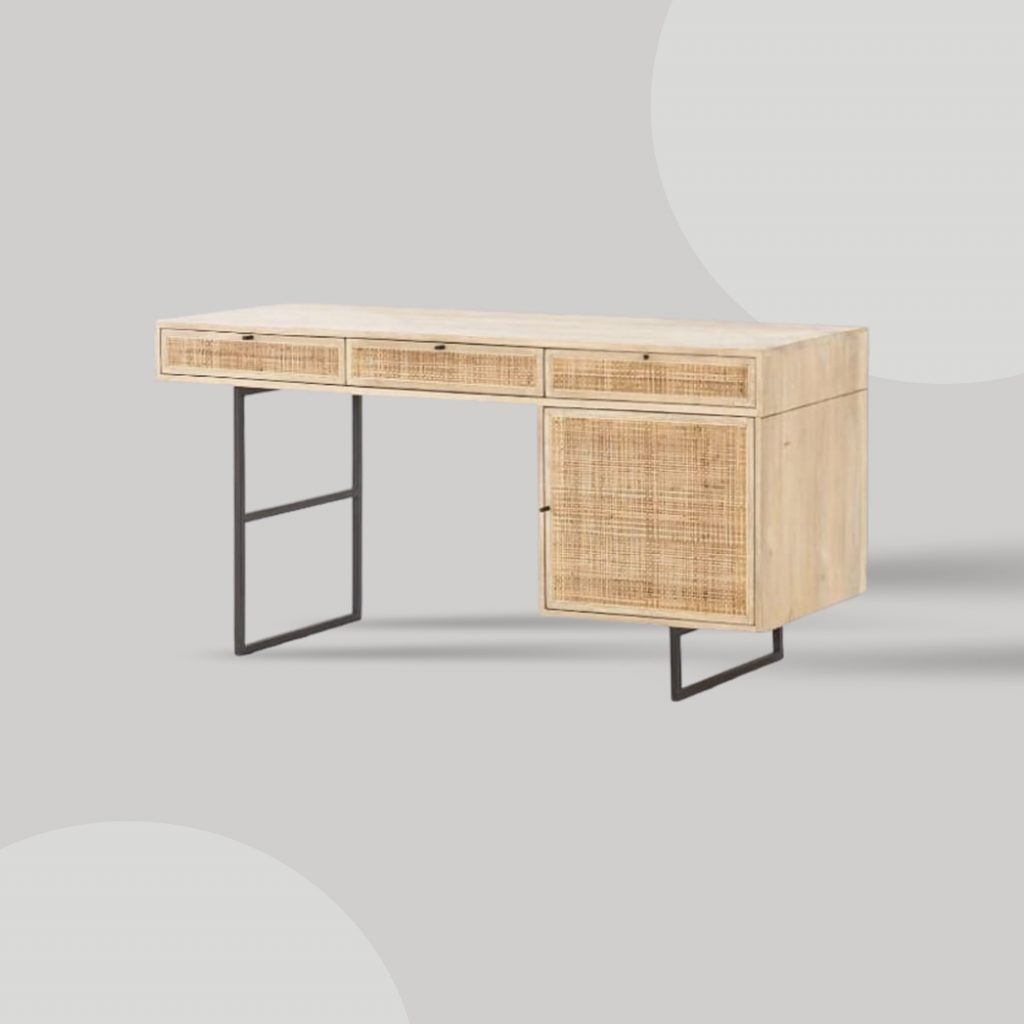 Choose sustainable materials
Corporate modernism is embracing the hybrid-working model with eco-friendly habits. High-quality materials like wood & marble in their earthy & natural traits keep the work desks cool & overflowing with productivity. 
For a professional workspace, a relaxed and comfortable atmosphere is so important. Not to forget, the welcoming vibes of the desks made from natural wood grains win over the procrastination.  Sustainable desks hit all the checkboxes in making your work hours productive.
Prioritise ergonomics & space
For longer work hours, unrealistic deadlines, or agile client requirements; you need ergonomic-friendly work desks.  
A neatly stacked desk that offers a variety of working postures serves as an inviting table scape for all your day's work sans the stress. 
Standard desk height 30 inches from the floor.
Leeway of convenient leg space.
Separate pull-out units for keyword & mouse. 
Unobtrusive sizes to blend with the home-office aura.
Comfortable fit to go along with its counterpart furniture.
Subdued colour tones to balance the lighting of your workspace.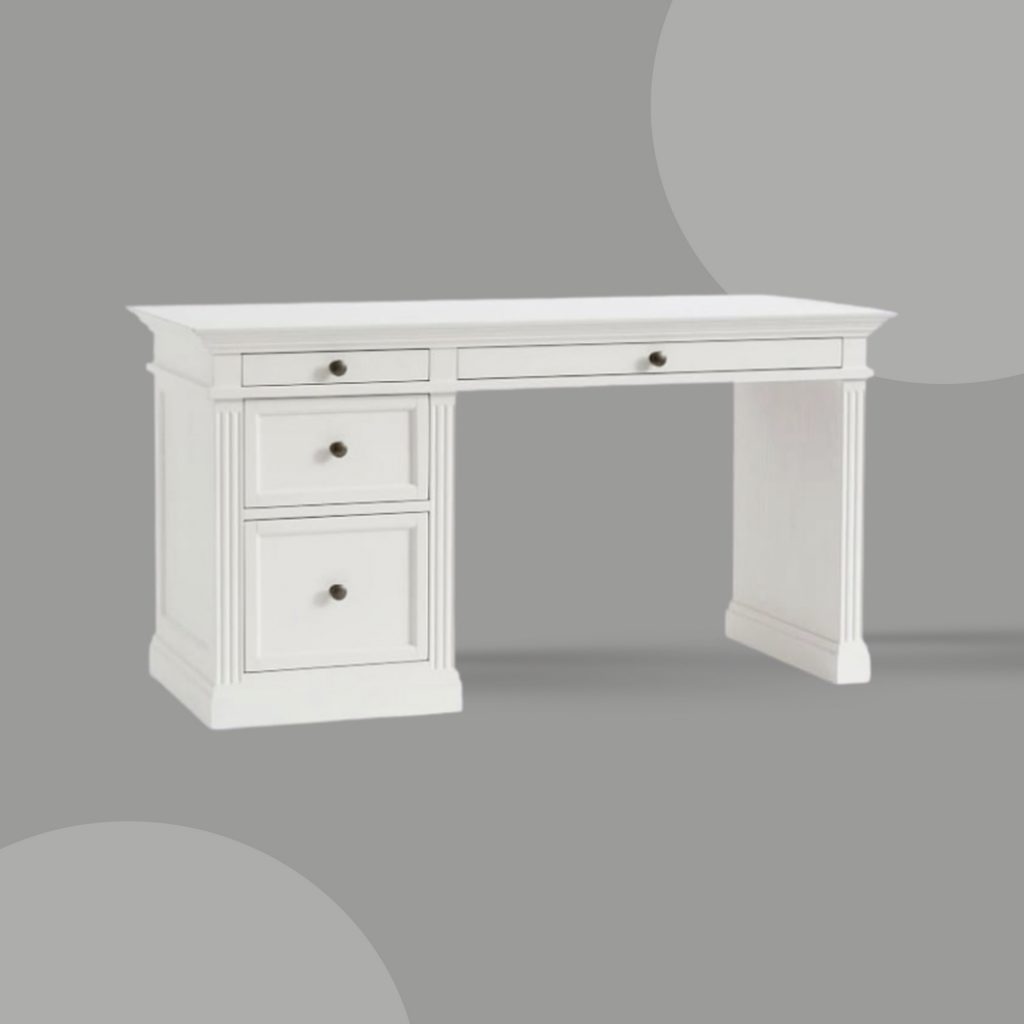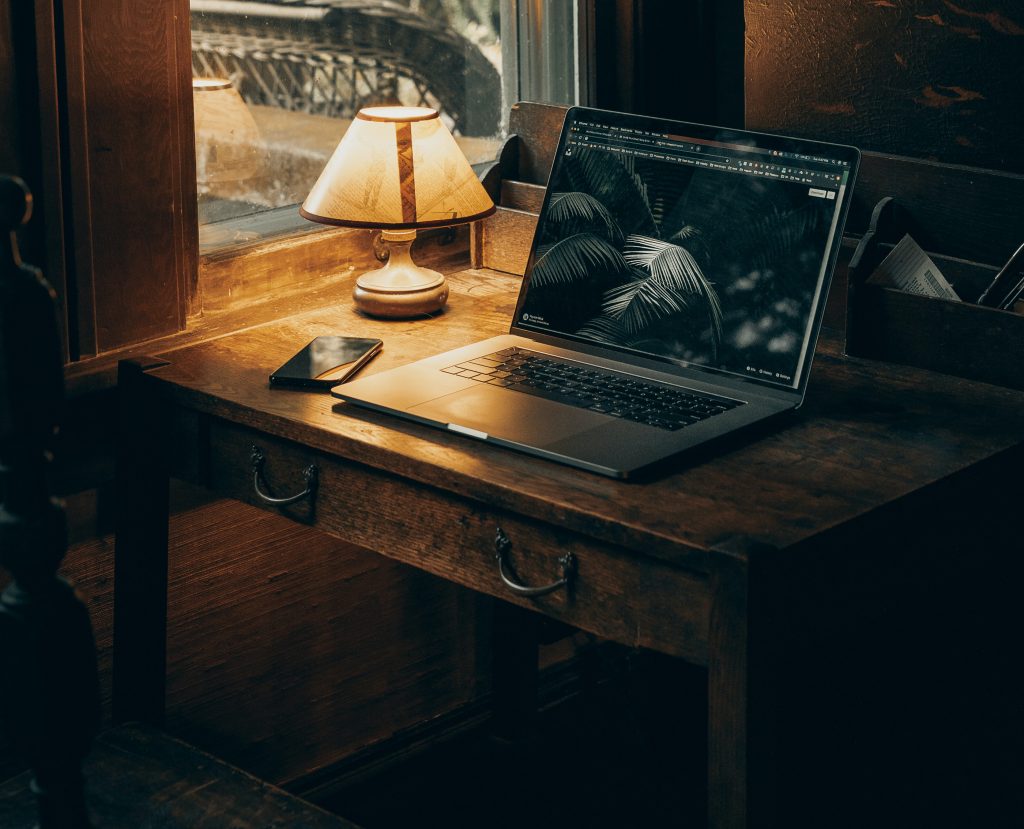 Onboard quality & durability
A modern office table is not just a piece of furniture meant for a temporary hybrid-work culture,  it'll add a new dimension to your workspace. It has to be functional, sustainable & able to withstand the work pressure throughout the day every day. 
You've to ascertain certain parameters that'll make investing in your office desk a deal worth it. 
Attention to detailing
Sleek & sophisticated designs & finish 
High-quality natural materials
Non-frayed corners & edges
Lightweight for ease of movement
Sturdy legs to withstand the load
Easily pullable drawers
Compartments sliding out to the full length
Select one that is made to impress
Working from home is a challenge in itself. So your office desk must be attractive & welcoming to prep you up for a productive day ahead. 
Desks made from natural materials like solid wood, reclaimed wood, marble, etc., exude a welcoming charm. With all the electronics surrounding you for the whole day, these eco-friendly modern office tables will keep your surroundings cool. 
Also, earthy tones & subdued colours are the preferable choices so as to keep your workstation to mingle with your home furniture calmly. With obtrusive colors, it will repel you from going back to work. 
Modern desks handcrafted in the distressed shades of nature are meant to turn any corner of your room into an executive's workstation.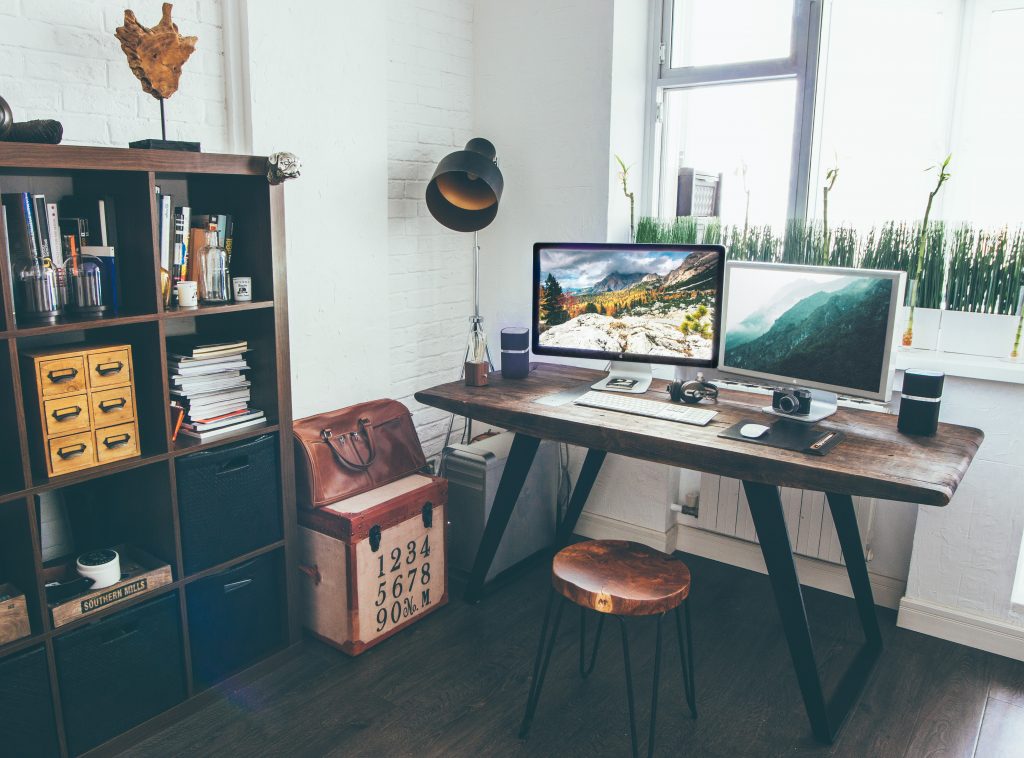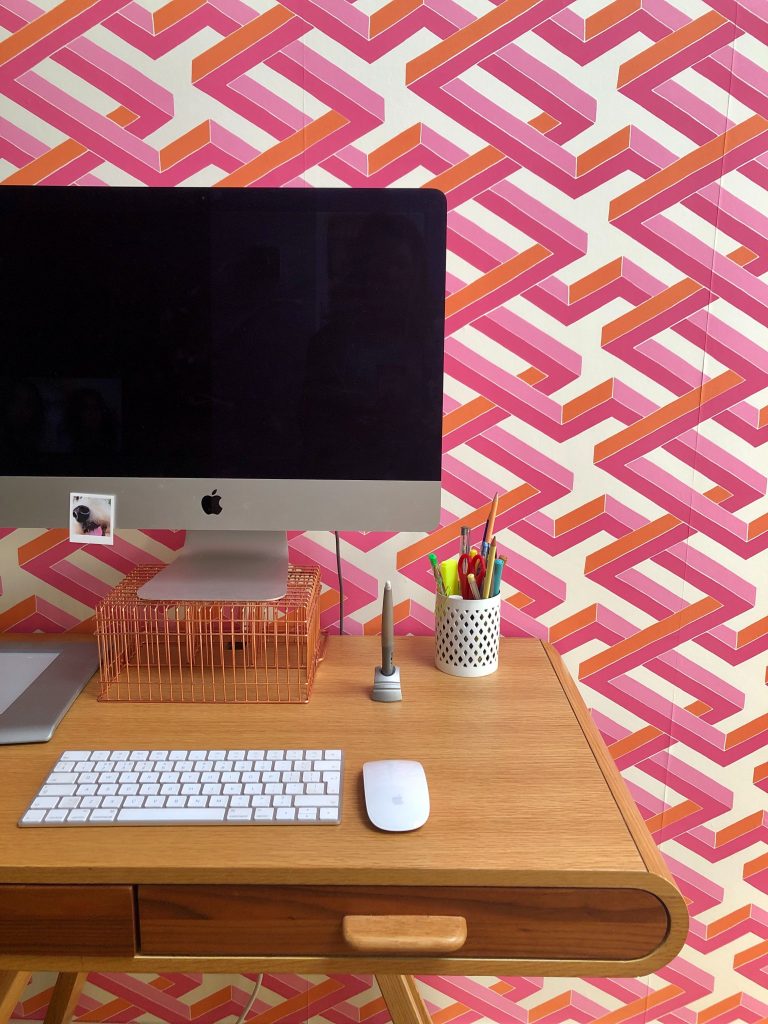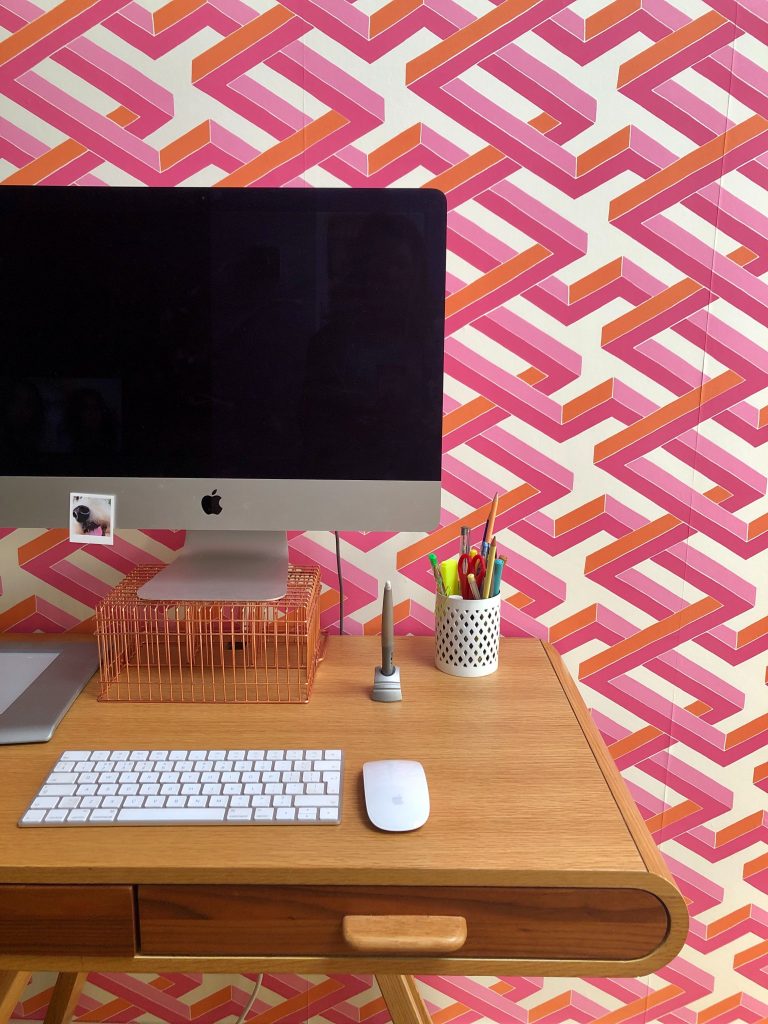 Prefer custom-made work desks
Desks designed exclusively for you score high on your expectations. While choosing an office table online, you can always lay out your brief & get one custom-made to meet your everyday requisites. 
Consider your work style habits & based on the materials/colour preference; a tailor-made office table will make working remotely less challenging for you.
Stay indoors, pick your office table online
At Miradorlife, we are dedicated to making work from home convenient & stylish & complement your stature luxuriously. 
Nature is the inspiration in all our art pieces & designs. Our office desks made from natural materials, hues, & designs team up to transform your workspace into a secluded & tranquil zone for maximum productivity. 
Each desk is handcrafted by skilled craftsmen with a special focus on detailing. The designs render mid-century or Scandinavian modernism to let your workspace speak class & sophistication. With impeccable quality & durability, they exhibit inviting elan.
Choose exquisite work desks at www.miradorlife.com