Many years ago, on a trip to Vienna Austria, I stumbled upon a lane of higgledy -piggledy houses in bright colors that looked straight out of a modern art painting. An offbeat tourist destination Hundertwasser village is named after Austria's eccentric artist, architect and environmentalist Friedensreich Hundertwasser who put sustainability and an earth based approach to architecture on the world map.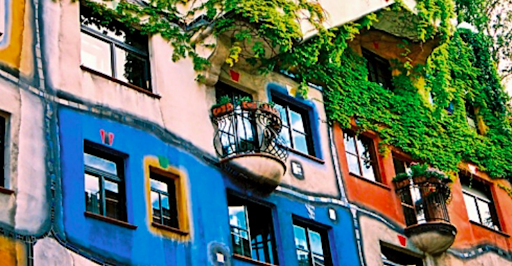 On a wall outside the Haus is a quote from Hundertwasser – " The flat floor is an invention of the architects. It fits engines—not human being, " According to him "an uneven and animated floor means to recover dignity of man which has been violated in our unnatural and hostile urban grid system.
One of his most famous rhetoric ( one that was believed by Gaudi many years back ) was that the downfall of man started with the straight line" A rigid thought process which killed creativity and free flowing form.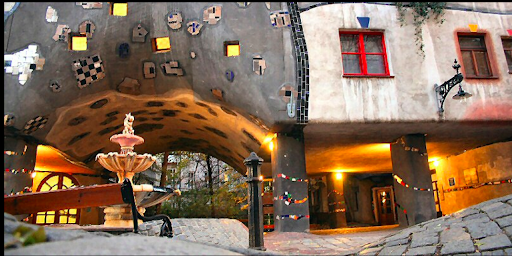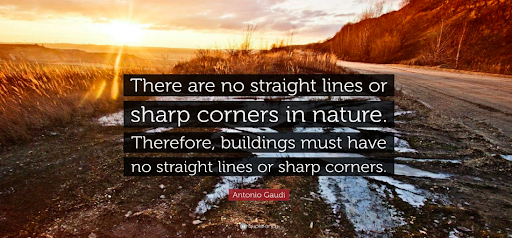 It was here in the little lane that I started my journey into sustainability, colour , the rawness of live edges and green roofs and try weave my life around it as much as possible.
Looking at Hundertwassers paintings and architecture on would feel it is unreal and fantasy –like, a psychedelic "Telly tubby land" with its colors and lack of symmetry. But other than the colors and shapes, Hundertwasser's core ideology was that all buildings should be environmentally friendly and that the natural environment and the built environment should blend seamlessly into one other. He spent his entire life protecting nature and advocated an organic concept of architecture or an "organic house."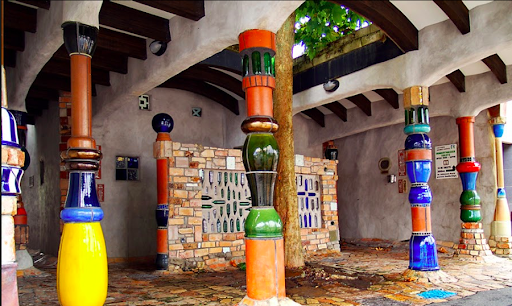 Brought up in the streamlined Bauhaus movement he opposed it completely and said the main cause of human misery rose from monotonous architecture. Apparently. he felt ill looking at the same grid windows and buildings block after block saying "visual pollution is one of the worst kind as it kills the soul."
The more I read about this eccentric man the more I admired his work and vision. Though some of his ideas maybe too radical and impractical, his core views can easily be meaningfully applied in the way we build and in the way we live.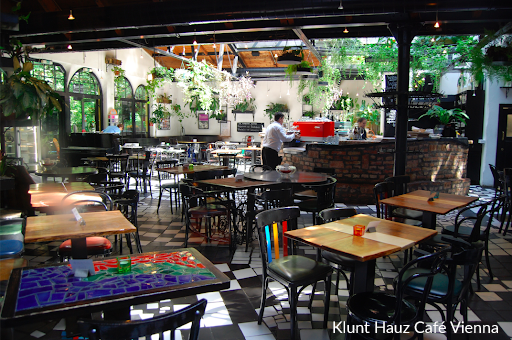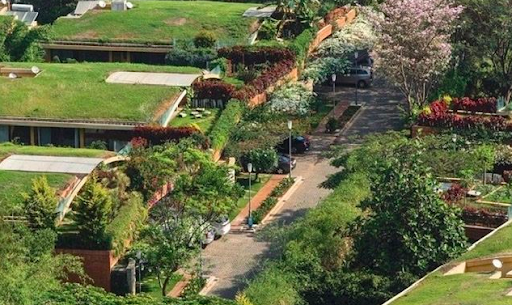 Total Environment Bangalore property with rooftop gardens
Some of his ideologies which have influenced my personal design and I have tried to incorporate into my lifestyle as much as possible
1. The idea of giving back to nature what is taken from her.

His thoughts on the ecological building are more important today than ever. It describes the simple idea of giving back to the earth, the surface that is taken away when a building or a house is made by planting on the roof. Though architecturally it may not be possible in many homes already built, we can try and fill this void by redoing our terraces, balconies and making as many green spaces possible within one's home.
2. Creating more individual pieces instead of mass productions.

We at miradorlife have never produced for the mass. Individual pieces that are customized for unique homes is our motto since the day we started. Many of our pieces cannot be replicated and we love that concept.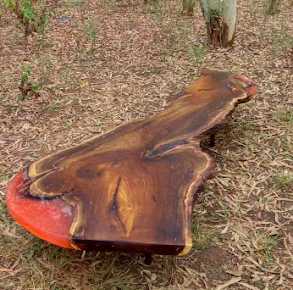 Sourcing local materials to avoid long transports.
Go Local and buy as much local as possible. There are stores after stores that sell and import items from South east Asia and China for even items which are made locally. Buy the basket made in India not china.
Everything in our house should not be straight lines
Nature rarely is about straight lines, so the more uneven edges we incorporate in our homes the more closer we are to incorporating an earthy natural home décor.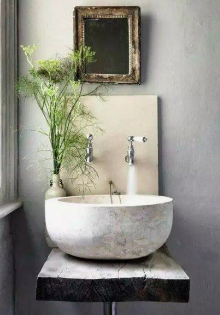 The concept of embracing colors and using them to create outstanding spaces
If you are too scared to paint your house , start with a piece of furniture in a colour you love and then build it up in layers with accessories, textiles and paint.
In a many ways Hundertwasser might have paved the way for sustainable architecture, way before it became fashionable.

He was a man ahead of his time, who developed the concept of composting toilets and roof top gardens, was vocal about the preservation of the oceans and rainforest. Today as we live our lives in the covid locked down era this structured "straight line" living has turned out to be a nightmare for many.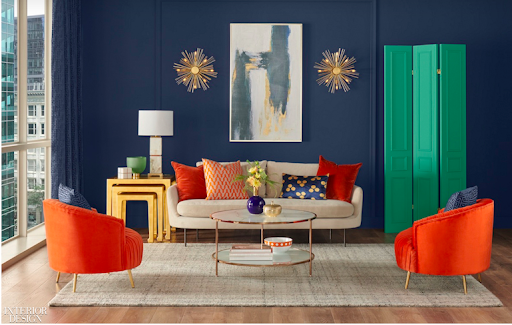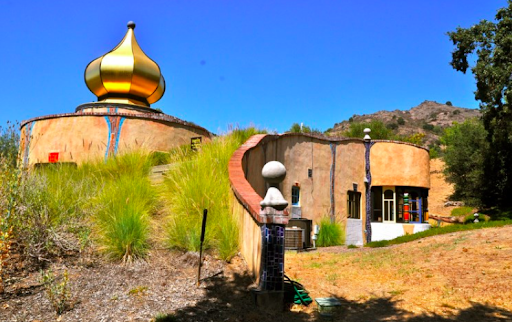 Hundertwaseer, Gaudi and many like them advocated natural living in different ways and styles . Isn't it about time we really change our ideas on how we live and what our homes should be.