Outdoor furniture is supposed to be tough and long lasting, but that does not mean they do not need any care at all. The chill and lack of moisture in the air can cause immense damage to your outdoor furniture. Hence, it is very important to protect outdoor furniture during winter.
Learn how to protect your wooden furniture
Contents:
Prepare your Outdoor furniture for winter
Store them well
Some care for the outdoor furniture cushions
Maintain your outdoor furniture
Most durable outdoor Furniture
Miradorlife speaks
Prepare your Outdoor furniture for winter
The first step to protect outdoor furniture during winter is to prepare them for the season. In order to do so, you will have to clean your outdoor furniture with utmost care. Dish soap and water can be used for wicker, iron, or plastic furniture, for wooden furniture use cleaner that is suitable for wood such as a wood cleaning spray or highly diluted dish soap and water solution. Once your furniture is clean, cover them with a protective cover that fits them perfectly. Protective covers made out of polyester are preferable. This material is strong and durable enough to protect your outdoor furniture set from damage that can be caused by weather. And then, find the right storage space for the outdoor furniture. Whilst some furniture can be used outdoors during the winter, the others will need a covered space for storage.
Store them well
Before you start setting your outdoor furniture aside, make you take care of the below points:
•  Check the storage area for potential leaks and flaws in the structure that might allow rodents or water to get inside
•   Wrap any glass / fragile items in blankets or towels to keep them from getting too cold and shattering when you bring them back out the following season
•   Apply a water-repellent finish to reinforce furniture and protect it from any moisture that might find its way into the storage space
•  Eradicate any signs of rust on your metal furniture or its components before putting it away for the next few months
•  Fix any cracks you find in plastic furniture however minor or the cracks will likely spread until they're too large to repair
•  Use high-quality outdoor furniture winter covers for extra protection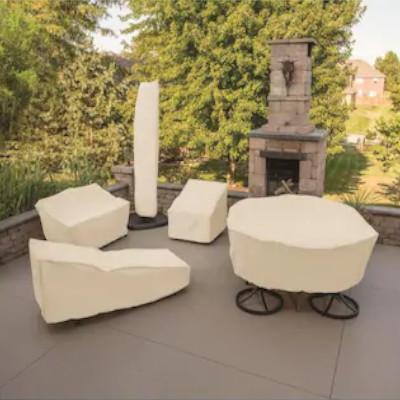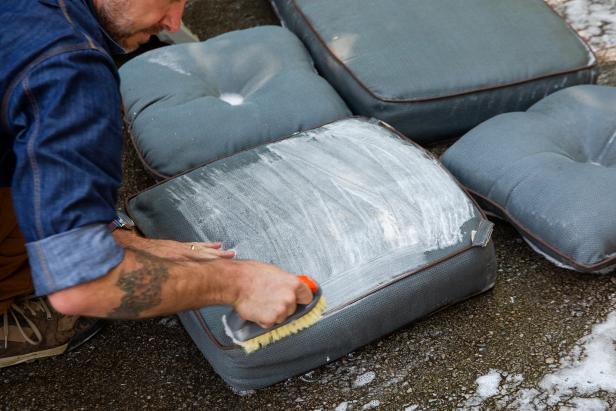 Some care for the outdoor furniture cushions
If you own a fabric outdoor couch or chair, you may have cushions that need to be stored away for the winter. Start out by cleaning your cushions with a hose or washing them with a damp cloth and letting them completely dry before attempting to store. Do not skip this step cushions that are even slightly moist can produce mould and will be ruined. Cushions will last longer when stored in a clean, dry area, such as a shed, basement, or garage. Place cushions in large plastic bags to keep them protected when they're not in use. You can buy outdoor cushion storage bags or use a large trash bag. Just make sure the bag is sealed tightly
Maintain your outdoor furniture
No matter the season, it's important to care and maintain your outdoor furniture. Proper upkeep will prolong the life of your furniture so you can keep it for much longer. Here are a few tips for maintaining outdoor furniture:
•  Clean furniture once a month, using a dish soap and water mixture or special furniture cleaner
•  Don't let mildew spread. Clean it off as soon as you spot it, using a glove and wet rag
•  Apply stains and sealants to wood furniture every 1-3 years to maintain the vibrant colour and shine
•   Let the furniture dry completely in the sun after every cleaning
•   Cover and store furniture when not in use
Most durable outdoor Furniture
Your outdoor furniture will have to stand up to the sun's strong rays in the summer, and elements like rain and snow in the winter. Choose a durable material to ensure your furniture can endure the wear and tear. If you want wood furniture, teak, eucalyptus, or cedar is a great choice that can face any weather.
Miradorlife speaks
Miradorlife is a brand of hand curated personalized furniture. We specialize in adding life to your home with our unique products. Our collection outdoor furniture and accessories will make you fall in love with them! Since we believe in sustainability both in terms of nature, livelihood of our local craftsmen and artisans, and Indian art. So, every time you buy our product, you are supporting our heritage, the keepers of our heritage and the Mother Earth of course!
We are also skilled to provide you with Design Consultation for your home. Our team of experts can assist you with renovating your single room or building a new house
Visit www.miradorlife.com to know more about us and explore our collection.